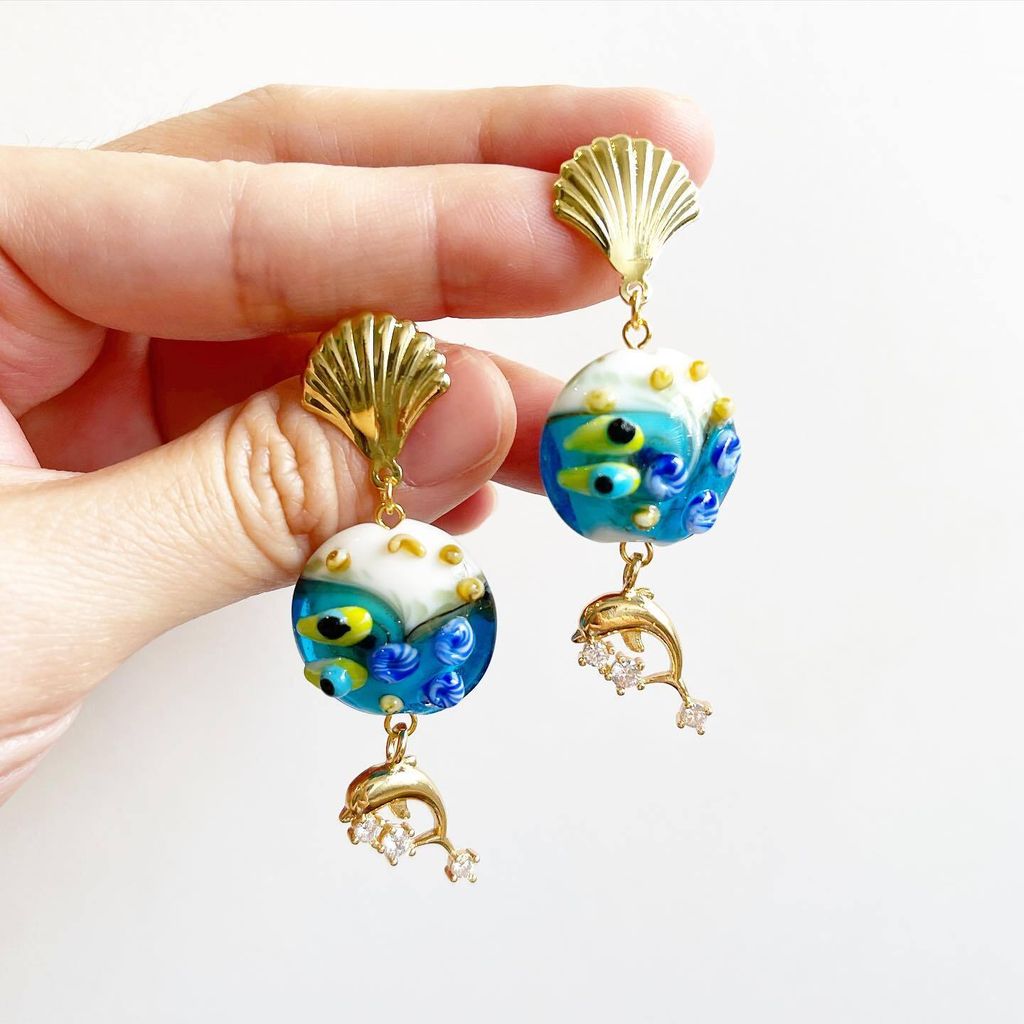 Seaside Symphony Azure Dolphin Earrings
Indulge in the mesmerizing world of Seaside Symphony, where our exquisite jewelry brings the depths of the sea to life. Our new earring collection is a stunning homage to the wonders of the ocean, meticulously handcrafted to capture its enchanting allure.
Immerse yourself in the beauty of our unique lampwork beads, each delicately adorned with graceful starfish, capturing the essence of the captivating marine life beneath the waves. Crafted with meticulous care and artistry, these beads serve as a reminder of the hidden treasures within the ocean's depths.
Discover the irresistible allure of the shore with our carefully selected sea shell embellishments, reflecting the iridescent treasures washed ashore by gentle tides. With each shell exuding natural elegance, they evoke memories of serene seaside strolls and the soothing melody of crashing waves.
Embodying the essence of the ocean, our curated beads mirror its enchanting hues, whisking you away to tranquil waters and the vibrant life thriving within. With a palette of blues, greens, and teals, these beads effortlessly capture the sea's essence, immersing you in a world of serenity and awe.
For a touch of whimsy and playfulness, some of our earrings feature turquoise pompoms that dance joyfully with every movement. These cheerful accents infuse the collection with a lighthearted spirit, mirroring the carefree adventures by the beach.
To make a bold statement, we've incorporated acrylic pieces showcasing striking designs inspired by the ocean's mystique. From swirling seascapes to shimmering coral reefs, these statement elements captivate attention and evoke a sense of wonder, allowing you to express your unique style and deep love for the sea.
Let the Seaside Symphony collection transport you to a world of marine marvels, where the gentle whispers of the sea are captured in every exquisite earring. Dive in and embrace the magic of the ocean, embracing its serene beauty with each enchanting piece.
Description
Floral earrings to spruce up your outfit of the day. This pair adds an attractive and unique touch to any plain outfits.
Composition + Care
Most metal components are made with either 14k, 18k or 24k gold plated findings, 925 silver post, Japanese tensha beads imported from Japan/ semi precious stones/ glass/ premium silk tassels/ premium polymer clay.
925 silver post are suitable for sensitive ears. However sterling silver posts are naturally soft due to the high silver content and gets bent easily. Just straighten them back with a pair of pliers when it gets out of shape.

Avoid contact with harsh liquids. Gently wipe skin oils or sweat from jewelry after wear. Store in air-tight bag when not in use.

All handmade items are delicately handcrafted and are bound to have slight imperfections.

Measurements
Dainty earrings measure within 15mm.
Standard earrings measures from 15-25mm
Statement earrings measures from 25-45mm
Clip Ons Options
For non piercings, you may request for a conversion to clip ons by adding a pair of clip ons (RM8 only) under the category "add ons". If you are purchasing multiple pairs, do leave me a remark on which pair to convert.
Packaging
Trinket comes wrapped in gift boxes. For gifting purposes, kindly leave me a note on which item to be packed separately BEFORE you checkout. You may also request to leave a handwritten message along with the gift. Please refrain from direct messaging me your requests on social media as it is hard to keep track on your social media handle with the order made.
Disclaimer: Each pair is unique and no two pairs are the same. Do expect slight imperfections as every single part is handmade from scratch. Clay earrings are all hand sculpted freehand, do expect a 10-20% variation within the pieces.
Proudly Designed and Handmade in Malaysia